Appliance Removal in Spring, Texas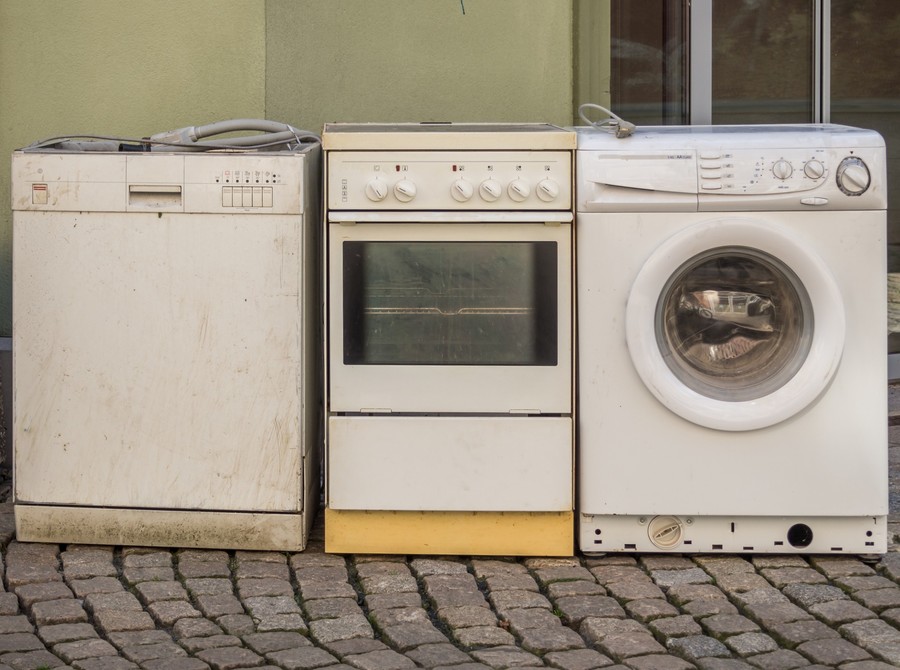 Are you looking for appliance removal services in Spring, Texas? It is no longer necessary to risk injury by trying to move these appliances by yourself. Junk Baby LLC has the proper tools and experience necessary to remove appliances safely and efficiently. Call Junk Baby LLC today for a free quote on Spring appliance removal.
---
Call for a FREE Quote
---
Benefits of Professional Appliance Removal
Junk Baby LLC takes the difficulty out of appliance removal in Spring, Texas. There are many benefits of hiring Junk Baby LLC for professional appliance removal. Appliances are heavy and difficult to carry without the proper techniques and equipment. Why put yourself at risk for injury with the professionals at Junk Baby LLC around? If you own a smaller car, it can be nearly impossible to fit an appliance to transfer it to a proper disposal location. Let Junk Baby LLC take care of appliance removal for you. When you call us, we come in and put the appliance you no longer want on the truck ourselves and haul it to the proper location.
Appliance Removal Services in Spring, Texas
Junk Baby LLC provides removal services for a variety of appliances, including:
Ovens & Stoves
Refrigerators & Freezers
Microwaves
Washing Machines
Dryers
And More.
Choose Junk Baby LLC for Spring Appliance Removal
From risking injury to knowing where to dispose of them properly, there are many reasons why you should not try and remove unwanted appliances without a professional. Some areas in Spring also have certain rules when it comes to the disposal of appliances. Don't catch yourself in a pickle when trying to remove unwanted appliances, call Junk Baby LLC for proper, professional appliance removal in Spring, Texas. Junk Baby LLC has been the trusted appliance removal service in the Spring area since 2017. We make appliance removal simple, call us today for a free quote.
---
Call for FREE Appliance Removal Quote
---
WHAT CUSTOMERS ARE SAYING:
5★★★★★ - "Honest Review: As an investor, it's extremely difficult to find trustworthy contractors/vendors to use REPEATEDLY for the business. I must say Junk Baby has exceeded our expectations any time we've requested a service from them. Their employees are extremely timely, responsive, and professional; and most of all this is a true pick-up service! We used them to remove furniture, trash, appliances, clothes, and MORE in one of our properties. They left the house spotless and even saved us $$ by giving us honest feedback on which appliances were salvageable. Their professionalism allows you to not be there during the service! You'll receive a call when they show up and a follow-up call/text with confirmation of the completed work (photos included); plus they offer electronic invoicing/payment which is great for our properties that aren't as convenient to get to. We now use Junk Baby anytime we need pick-up service and will continue to do so going forward! Easy call.."

Mike R., Junk Removal in Spring, TX

2022-04-13

5★★★★★ - "I truly appreciated Junk Baby's quick response, quality work, and overall excellent customer service. They listened to what I was requesting to have done, quoted me a good price, and did an excellent job. I will definitely be calling on them again as well as telling my family and friends about them!"

Diane B., Hoarder Cleanup in Spring, TX

2022-01-26

5★★★★★ - "I had the pleasure of working with Johnnie and Johnathan and I must say they made everything better. Recently I lost my husband and needed to get rid of some old things and wasn't quite sure where to start. The process was very smooth and worth every penny. Not only were they professional but focused on detail. They knew I was very uneasy about getting rid of his things but it was time to de-clutter the massive mess overwhelming me. I would DEFINITELY recommend them to everyone… You will NOT be disappointed. I can FINALLY breathe! Thanks again guys!"

Nicole S., Furniture Removal in Spring, TX

2022-01-26

5★★★★★ - "Great customer service and very responsive!"

Quinn L., Yard Waste Removal in Spring, TX

2022-01-26

5★★★★★ - "These guys are AWESOME, I made the appointment online on a Monday and they had me scheduled on Wednesday. They showed up a few minutes early, called ahead, and were very kind and professional. They picked up stuff in multiple places on my property and were very helpful. I highly recommend them and will be calling them back again. If you want a job done quickly with kind people. Junk Baby is the one you need to go with!! Thank you, Junk Baby!!"

Janna Wallace-Cronin in Cypress, TX

2022-05-11

5★★★★★ - "These guys did a great job! Even helped haul junk down from the attic. Very impressed with both of them."

Anonymous in Cypress, TX

2022-04-12

5★★★★★ - "These guys do great work! They showed up on time and took my junk away and left the area nice and clean. I will definitely use these guys again."

Johnny A., Junk Removal in Porter, TX

2022-01-26

5★★★★★ - "Junk Baby is dependable and timely vendor, working in property management, this type of professionalism we like to work when doing on-site community unit renovations."

Austin S., Demolition Services in Tomball, TX

2022-01-26

5★★★★★ - "I have used a number of movers over the years and I have to say that Johnny and his brother are far better than any of the others! They are Amazing! They not only did a Fantastic job but Johnny is a Miracle Worker! He organized our garage! It has not looked this nice since we moved in which was over 17 years ago. Not only do they do a Great job, they're super nice guys! So, if you're looking for an Amazing Mover, you've found one! Thank you to the Best Movers in Houston! God Bless."

Karen M., Furniture Removal in The Woodlands, TX

2022-01-26

5★★★★★ - "Junk Baby is extremely professional and detail oriented. Would definitely use again and recommend."

Thomas N., Estate Cleanout in The Woodlands, TX

2022-01-26

5★★★★★ - "I love Junk Baby. Great quality work in a timely fashion. I would totally recommend them for all your hauling needs!!"

Cedric F., Junk Removal in Conroe, TX

2022-01-26

5★★★★★ - "Very professional and they cleaned up after all the work was all done Will definitely recommend."

Robert S., Demolition Services in Willowbrook, Houston, TX

2022-01-26
---
Call for FREE Appliance Removal Quote
---